Enjoy Your Best Game of Golf in Puerto Vallarta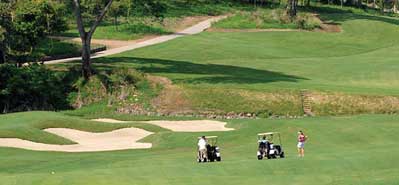 Puerto Vallarta has certainly matured from the days when it offered just two golf courses. While those two clubs were very professional, Vallarta was not known as a destination for golfers. But when the EMC World Cup was held at Vista Vallarta in 2002, international attention brought additional investment to the area, and the existing seven local courses grew to nine with another on the way. Now, Vallarta has become a golf destination for professionals the world over.

In this piece, retired golf professional Joe Johnston, a USGTF-certified instructor who has worked with many, if not all, local golfers at some point, shares his comments on some of the local courses.

Note that rates were valid at the time of printing and are subject to change. Ask about special rates for juniors, seniors, frequent players or groups. Call ahead for best tee times. Golf lessons are by appointment only. Twilight rates, where listed, usually begin after 2 pm. All rates are listed in US dollars.

18 holes, par 72, 7239 yards

Blue tee box: 6607 yards, rating 74.5, slope 133

Designer:

Robert Von Hagge Group

Rates to October 2008: $116, Twilight $80

www.eltigregolf.com

• (322) 297-0773

El Tigre was designed on a flat surface. To make the course more interesting, sand and water define the golf holes: 12 holes feature water with three "beach" bunkers. In addition, Hole 1 starts on a shallow green alongside a street, and Hole 18 certainly offers the toughest finish. This course hosts a number of national and international tournaments. Paradise Village created the additional draw of a full-service spa in the club house and a complete sports club nearby.

18 holes, par 72, 6853 yards

Blue tee box: 6982 yards, rating 72.5, slope 130

Designer:

Percy Clifford, opened 1978, refurbished 2006

Rates to October 2008: $121, Twilight $77

www.flamingosgolf.com.mx

• (329) 296-5006

Although this was the first golf course in the area, the design by Englishman Percy Clifford took total advantage of the natural terrain. Over the years, it fell on hard times, but the recent renovation brought it back to its deserved professional level. Three tee boxes from each hole offer every golfer a truly challenging game. Here you can appreciate wildlife such as crocodiles, turtles, birds and even anteaters during the course of a game. Flamingos hosts a number of local fundraisers and other charity events for the community.

18 holes plus one optional for a total of 19, par 72, 7001 or 7014 yards

Designer:

Jack Nicklaus

Rates to Dec. 2008: $195 for 18, $120 for nine

This private course is exclusively available to members and their guests.

www.fourseasons.com/puntamita/golf.html

• (329) 291-6000

Note that Course II is scheduled to open before year's end in 2008. Also a Jack Nicklaus Signature Course, data will be available at a later date. The Four Seasons Punta Mita Golf Course is located on one of the most beautiful spots at the north end of Banderas Bay, with magnificent ocean frontage. It is home to the acclaimed Tail of the Whale, an optional hole on a small islet accessible by an amphibious golf cart during low tides. The Jack Nicklaus Signature Course has been voted "Best Course in the World" by Condé Nast Traveler. While the first course follows the contours of the coastline, the one in development will include lagoons, stunning slopes and the beach just below the El Faro lighthouse. The Condé Nast Traveler 2008 Reader's Poll also voted the Four Seasons Resort Punta Mita as the world's most luxurious golf resort. Completed anonymously by guests, this poll is considered to be among the most reliable sources for unbiased ratings of top luxury destinations.

18 holes, par 71, 6936 yards

Blue tee box: 6197 yards, rating 70.4, slope 122

Designer:

Jim Lipe

Rates to October 2008: $124

www.mayanresortsgolf.com

• (322) 297-1830

Note that during the renovation phase, to be completed mid-year 2009, only nine holes will be available for play at any one time. The Mayan Resorts Golf Course in Nuevo Vallarta is undergoing a major renovation, due for completion in mid-2009. The project is being undertaken by Jack Nicklaus Design for a new look on the professional 18-hole course.

18 holes, par 71, 6701 yards

Tee box: regular, yardage 6093, rating 70.0, slope 125

Designer:

Joe Finger, opened 1989

Rates to Oct. 2008: $129, Twilight $98

www.marinavallartagolf.com

• (322) 221-0073

The Marina Vallarta Golf Course was one of the early ones, and continues to be one of the most popular because of its proximity to town, the Maritime Terminal and airport. Its unique feature is that your game includes the added dimension of crocodiles, iguanas, turtles and a wide variety of native birds. Located in what was originally a swamp, water is a characteristic of most of the holes. It's a challenging course and fun to play.

Two 18-hole courses in one location

Designer:

Tom Weiskopf, opened Nov. 2001: par 72, 6976 yards

Blue tee box: 6993 yards, rating 71.6, slope 134

Designer:

Jack Nicklaus, opened April 2001: par 72, 7057 yards

Blue tee box: 7073 yards, rating 71.6, slope 134

Rates to October 2008: $183, Twilight $129

www.vistavallartagolf.com

• (322) 290-0030

Vista Vallarta features two distinct designers. Tom Weiskopf retains as much of the original landscape as possible, making modifications only to accommodate the game. The feeling is very natural; the trees are native and the contours follow the curves of the hills. Jack Nicklaus likes to start with a clean slate, so he clears away to create wider greens. In fact, his stadium effect is what made this course function so well for the World Cup and other competitions. It's a great course to see golf as a spectator. And the spectacular views include the sea on one side and the mountains on the other, a unique feature. Access from the airport or Maritime Terminal is an easy five-minute drive.

Johnston suggests making a golf getaway to take in the two areas south of Puerto Vallarta: El Tamarindo (www.eltamarindoresort.com/indexen.html) and Isla Navidad (www.islanavidad.com/golf/index.asp), which can be done in a two-night, three-day weekend.

To complete your Costa Alegre golf getaway, consider staying at the beautiful secluded Mexico Boutique Hotel properties, El Careyes, El Tamarindo or Las Alamandas, located within driving distance of these courses. Visit www.mexicoboutiquehotels.com for further information and reservations.

It's important to note that these golf courses use recycled, reclaimed water for irrigation of the broad greens. We believe in living "green." The local branch of the national water conservation organization, SEAPAL, is the only one in Mexico that has received accreditation for 17 years straight.

Whether you're a professional, aficionado or even a spectator, do your game a favor and try each of these courses. The variety and breadth is astounding and will make your stay even more enjoyable. In addition, not listed here are the new Gregg Norman-designed course in Litibú, 18 holes at El Tamarindo and 27 holes at Isla Navidad. Your game is bound to improve.

Litibu Golf Course


Designer: Greg Norman

Designed by Greg Norman, this challenging 18-hole course has been fully integrated into Litibu. All of the hotels and condominiums in this Riviera Nayarit project including Haixa and La Tranquila Resorts, have been tastefully arranged between and around this spectacular course. With the first nine holes finished at this time, the final nine will soon be completed and this majestic course will be fully operational by the fall of 2008. Watch for further information in the Fall/Winter Edition of this magazine.
Recommended restaurants in Puerto Vallarta
Café des Artistes


Guadalupe Sanchez 740 El Centro 222.3228
www.cafedesartistes.com


Three distinct environments: Bistro Gourmet for elegance, Wine Bar for intimacy

Blouet Cocina de Autor

The ultimate culinary dream

Daiquiri Dick's

Olas Atlas, El Centro 222.0566
www.ddpv.com


Beach-side eatery with sophisticated touch, 2008 - Best Margaritas

Hacienda San Angel Gourmet

Miramar 336, El Centro 222.2692
www.haciendasanangel.com


PV's most elegant retreat Candle-lit garden Roof top terrace

Kaiser Maximilian

223.0760
www.kaisermaximilian.com


European and Austrian dining, New and Old World cuisine Delicious Austrian pastries

La Palapa

Pulpito 103 El Centro 222.5225
www.lapalapapv.com

International awards Gourmet cuisine Most romantic, Best Sunset Dining, Best outdoor Dining

Le Bistro

Isla Rio Cuale 16-A 222.0283
www.lebistro.com.mx


Piano bar atmosphere ask to sit by the river

The River Café

Isla Rio Cuale 223.0788
www.rivercafe.com.mx


Casual but elegant beautiful setting by the river markets along Isla Rio Cuale

Thierry's Prime Steakhouse Plaza Peninsula

221.1212
www.thierrysprime.com

Avant-garde with Mexican flair

Trio Café-Restaurant Bar

Town of Guerrero # 264 222.3570
www.triopv.com

Award-winning open courtyard eatery

Vista Grille

Pulpito 377 El Centro 222.3570 www.vistagrill.com

Fine dining contemporary cuisine - spectacular view - magnificent sunsets

Blanca Blue

KM. 7.5Carretera a Barra de Navidad 176.0700 http://www.garzablancapreserve.com/blanca-blue-restaurants/blanca-blue-restaurant

Elegant and sophisticated dining

Barcelona Tapas

Matamoros & de Octubre, Downtown PV 222.0510
www.barcelonatapas.net

Appetizer-sized servings of Spanish flavor, bird's eye view of town and bay

Vitea

Libertad & Malecon 222.8703
http://viteapv.com

Oceanfront bistro and bar offering contemporary bistro fare
Puerto Vallarta's Beaches
Mexico's beaches are jewels of bright, clear water and soft, white sand. Each beach has its own personality, and each carries its own adventures. From wandering minstrels to delicacy and craft vendors, you can immerse yourself in the fun of bargaining for local art treasures while sipping one of your favorite refreshments, or simply gaze at the calm horizon and dream of days to come.
Bucerias Beach, Conchas Chinas Beach, Estrella Beach, Los Gatos Beach, Los Muertos Beach, Mismaloya Beach, Punta Negra Beach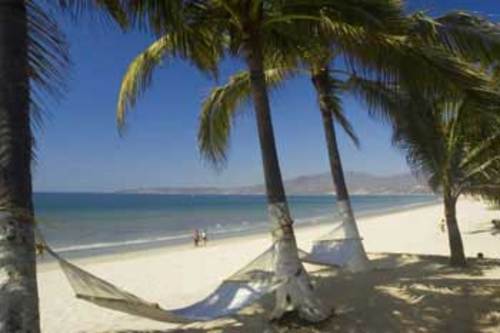 Bucerias Beach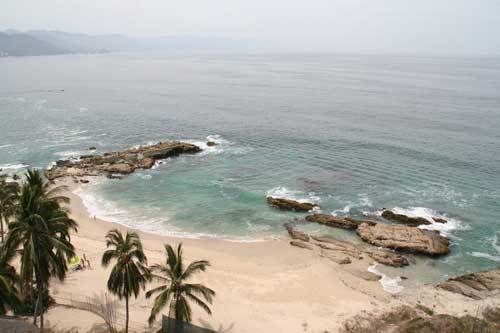 Conchas Chinas Beach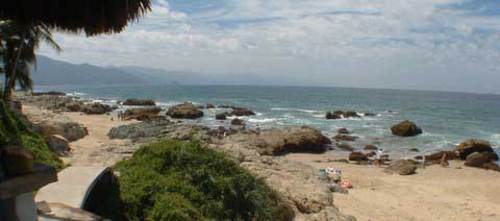 Conchas Chinas Beach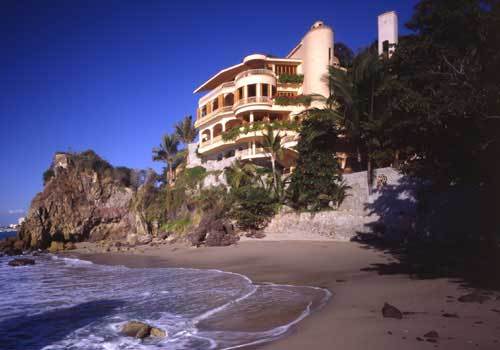 Estrella Beach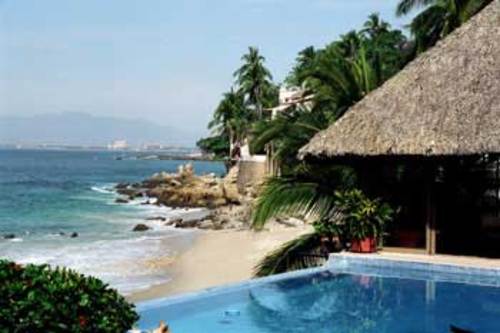 Los Gatos Beach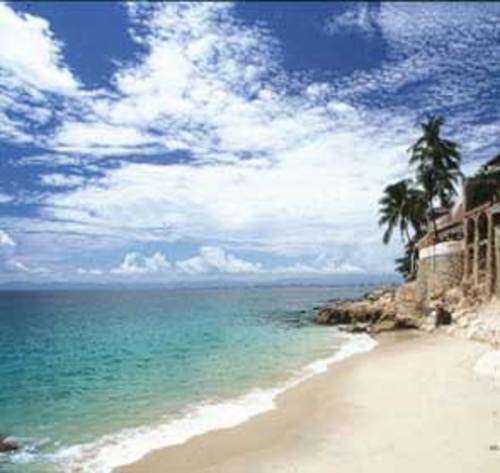 Los Gatos Beach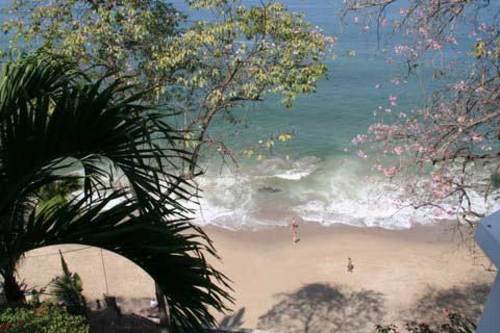 Los Muertos Beach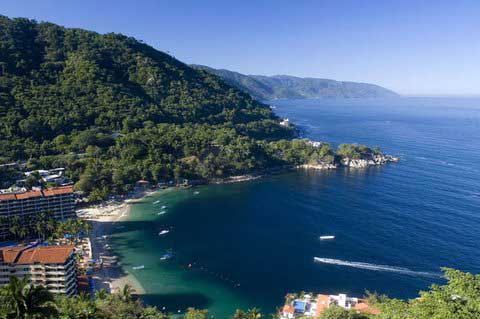 Mismaloya Beach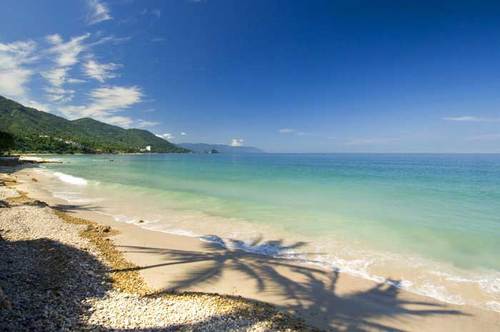 Punta Negra Beach